Why Scaled Agile Framework (SAFe) ?
SAFe is the future to achieve enterprise agility and economics of scale, scaling agility synchronized at team, program and portfolio levels.
Our modern world runs increasingly on software
Keeping pace (time to market) requires that we build ever-larger and more complex systems with an ever-larger number of practitioners
Our prior development – Waterfall, RAD, Iterative & Incremental (RUP) – can't keep pace.
Agile demonstrates the greatest promise but was developed for smaller team environments
What we need is a "style change", a new approach – one that harnesses the power of agile and lean thinking – for the needs of enterprise agility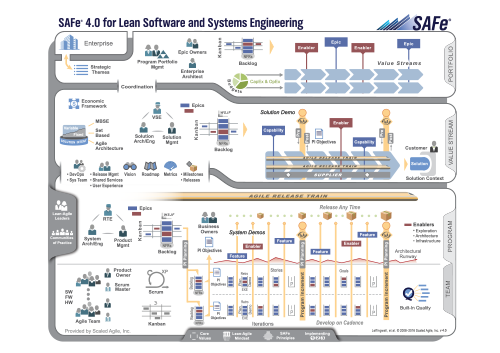 SAFe is a proven, publicly facing framework for applying Lean & Agile practices at Enterprise scale
Value Proposition
It synchronizes alignment, collaboration and delivery at 3 tiers in your organization, Portfolio, Program & Team levels
Well defined & described in books and on the web (www.scaledagileframework.com)
Scales enterprise initiatives successfully to a larger number of practitioners and teams without imposing undesired overhead
Increases the throughput & quality of your team deliverables by applying Agile Lean principles not only on team levels, but also for programs as well as portfolio levels.
Forces Portfolio level to stay true to their strategy by enforcing bottom up planning from team levels to adjust scope rather than "top down" planning to "bite the bullet"
Builds a comprehensive understanding with management (High risk stakeholders of an initiative) of the size & complexity of the initiative at hand, by putting tangible size estimates and economical prioritization on features agreed with teams through a collective exercise.
SAFe Core Values
SAFe Offerings
1. We are SAFe Certified Consultants & Trainers
This means we have undergone a personal certification from Scaled Academy to train & implement SAFe in organizations. It is only Scaled Academy certified consultants that are promoted by SAFe to lead implementations with external customers. Verify that the partner you are about to sign fulfils this criteria and the brand listed below vouch for this.
2. Pre-Sales presentations – Free of charge
If your organization is curious about SAFe?, book us for 1 ½ and we will present what SAFe is all about and what use it can be to your organization.
3. SAFe Readiness Assessment
If you decided that SAFe is something for you, let us then assess your readiness to take on SAFe and conduct an "Agile Release Train"
4. Training
1. Getting started with agile
2. Lean thinking for teams & management
3. Leading SAFe
5. Change Management Initiatives
As a result of your "SAFe Readiness Assessment" you might discover that some basic building blocks is missing out in order to leverage from a SAFe setup, this could be for example;
To get your dev teams to adopt a test driven design approach
Automated test/build environment
Organizing your software development organization in an optimal way to meet an agile delivery profile
We can offer you to lead & ensure that these initiatives get underway in order to enable a SAFe introduction.
6. SAFe Agile Release Train Facilitation & Consultancy
Once your pre-requisites is in place it is time to plan, get ready and kick off the SAFe agile release train, never done it before?, don't worry we will assist you! We will also assist you on the journey execution the Agile release train, to take you through your first set of PSI's, to ensure you get off the starting blocks and gets full leverage for your investment.